A 21′ (6.4m) voile-aviron expedition cruiser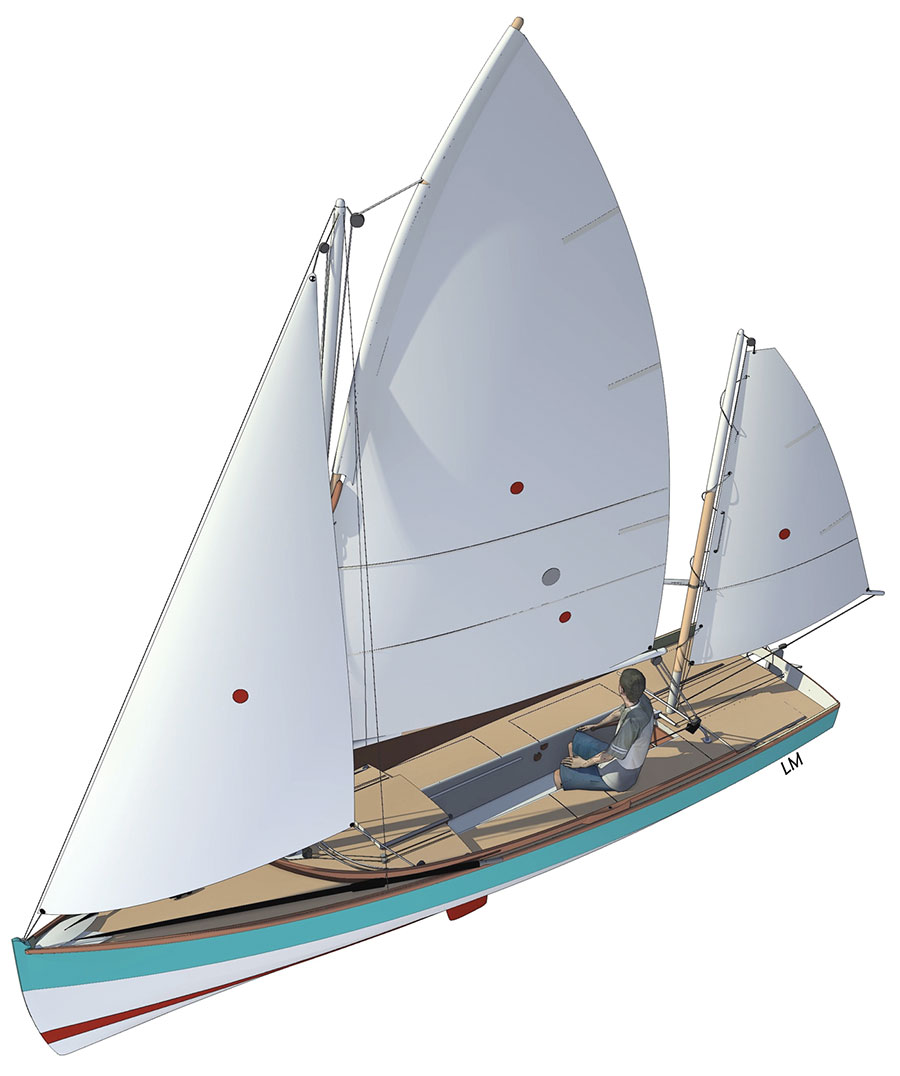 Particulars
LOD: 21′ (6.40m)
LWL20′3″ (6.17m)
Beam: 5′4″ (1.62m)
Draft (board up): 8″ (20cm)
Draft (board down): 39″ (99cm)
Light boat: 500 lbs (227 kg)
Displacement (half-load): 1,100 lbs (499kg)
Water ballast: 300 lbs (136 kg)
Sail area: 145 sq ft (4.2m2)
D/L ratio: 58
SA/D ratio: 21.8
Ballast/Displ.: 0.27
Cp: 0.64
PICOTINE's profile and lapstrake construction make her appear traditional, but she's actually a contemporary expedition cruiser. The narrow load waterline is great for rowing; water ballast tanks compensate for low form stability. Sleek waterlines promise good performance.
The simple lapstrake plywood-epoxy construction, with fiberglass cloth sheathing over the mostly 9mm plywood, will proceed quickly and be light and strong.
A variety of sail-plan options were considered, including, from left, jib-headed gunter ketch, lug yawl, jib-headed ketch, gunter sloop, and cat-ketch. The jib-headed gunter ketch offers the best variety of sail combinations, good looks, and manageability.
The sliding seat travels on permanently mounted rails. A single rower at the carbon-fiber oars should be able to maintain a cruising speed of 3 knots.
---
Laurie McGowan is a Nova Scotia–based boat designer with a diverse on- and below-water work history. He specializes in energy-efficient commercial and pleasure boats. More of his work may be found at www.mcgowanmarinedesign.com
J.F. Bedard is a designer-builder in Florida specializing in a range of CNC-cut boats and kits. He came second-in-class to Matt Layden (www.microcruising.com) in this year's Everglades Challenge 300 in his 15′ RoG (bit.ly/SBMRoG). He came second in the race last year, too. His work may be seen at www.bedardyachtdesign.com.
Design Sketchbook appears in every issue of WoodenBoat. McGowan takes readers' ideas of their ideal boats and designs a vessel to those specifications. Do you have a boat concept you'd like to see Laurie McGowan develop? If so, send it to Sketchbook, WoodenBoat Publications, P.O. Box 78, Brooklin, ME 04616, or email it to sketchbook@woodenboat.com. Your letter should be no longer than 500 words.