A 39′ (11.95m) sailing club boat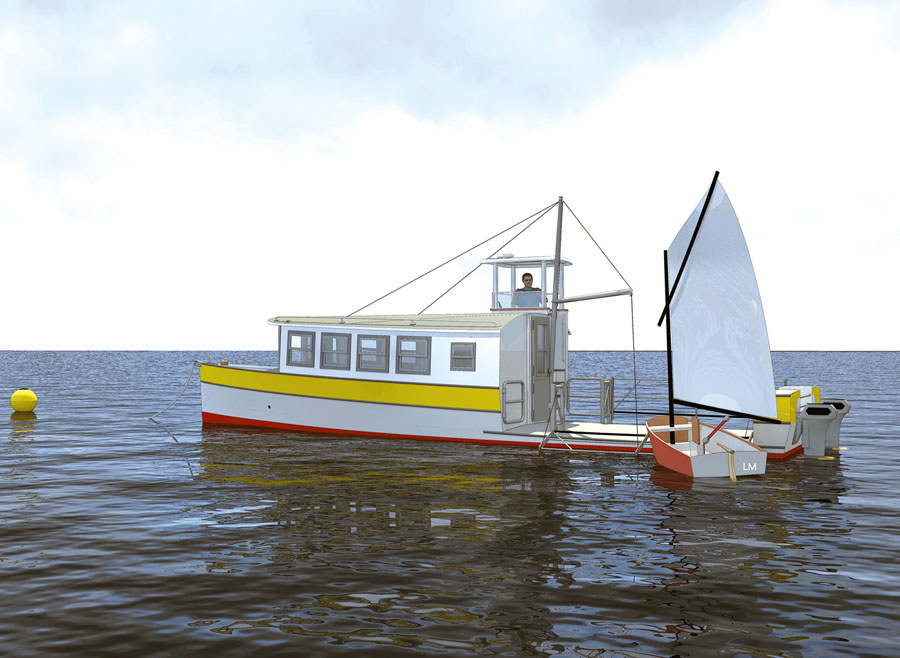 From WoodenBoat magazine No. 257, July/August 2017: PICKUP is a most unusual boat — essentially a mobile waterfront for youth sail training, with a large, near-water-level work platform aft and a midship elevated helm station with all-around visibility.
At 5.8 kW (about 73/4 hp), PICKUP makes a respectable 7.5 knots. At 15.9 kW (about 21 horsepower), the speed climbs by about 2.5 knots. But the boat is not meant for speed. Rather, it's a sailing school tender and base that can keep up with a flock of dinghy sailors.
PICKUP Particulars:
LOA: 39′3″ (11.95m)
LWL: 38′10″ (11.84m)
Beam: 9′7″ (2.94m)
Draft: 1′7″ (0.48m)
Displacement (salt water, half-load): 12,750 lbs (5.78t)
Water ballast (in keel): 4,000 lbs (1.81t)
D/L ratio: 97
Prismatic coefficient: 0.63
Power: Twin Torqeedo Cruise 10s 20 kW total continuous power
Complement: 16 passengers, 2 crew
---
Design Sketchbook appears in every issue of WoodenBoat. McGowan takes readers' ideas of their ideal boats and designs a vessel to those specifications. This is 3-D concept drawing to supplement the installment found in WoodenBoat issue 257, July/August 2017. See the article for lines drawings and more details.  Do you have a boat concept you'd like to see Laurie McGowan develop? If so, send it to Sketchbook, WoodenBoat Publications, P.O. Box 78, Brooklin, ME 04616, or email it to sketchbook@woodenboat.com. Your letter should be no longer than 500 words.
Laurie McGowan is a Nova Scotia–based boat designer with a diverse on- and below-water work history. He specializes in energy-efficient commercial and pleasure boats. More of his work may be found at mcgowanmarinedesign.com.