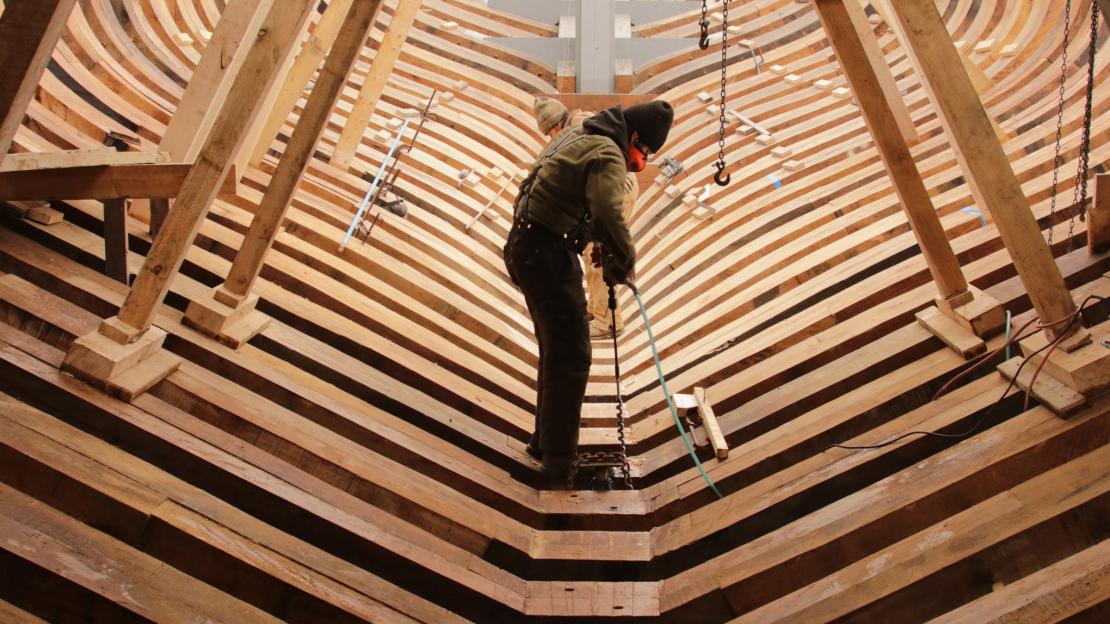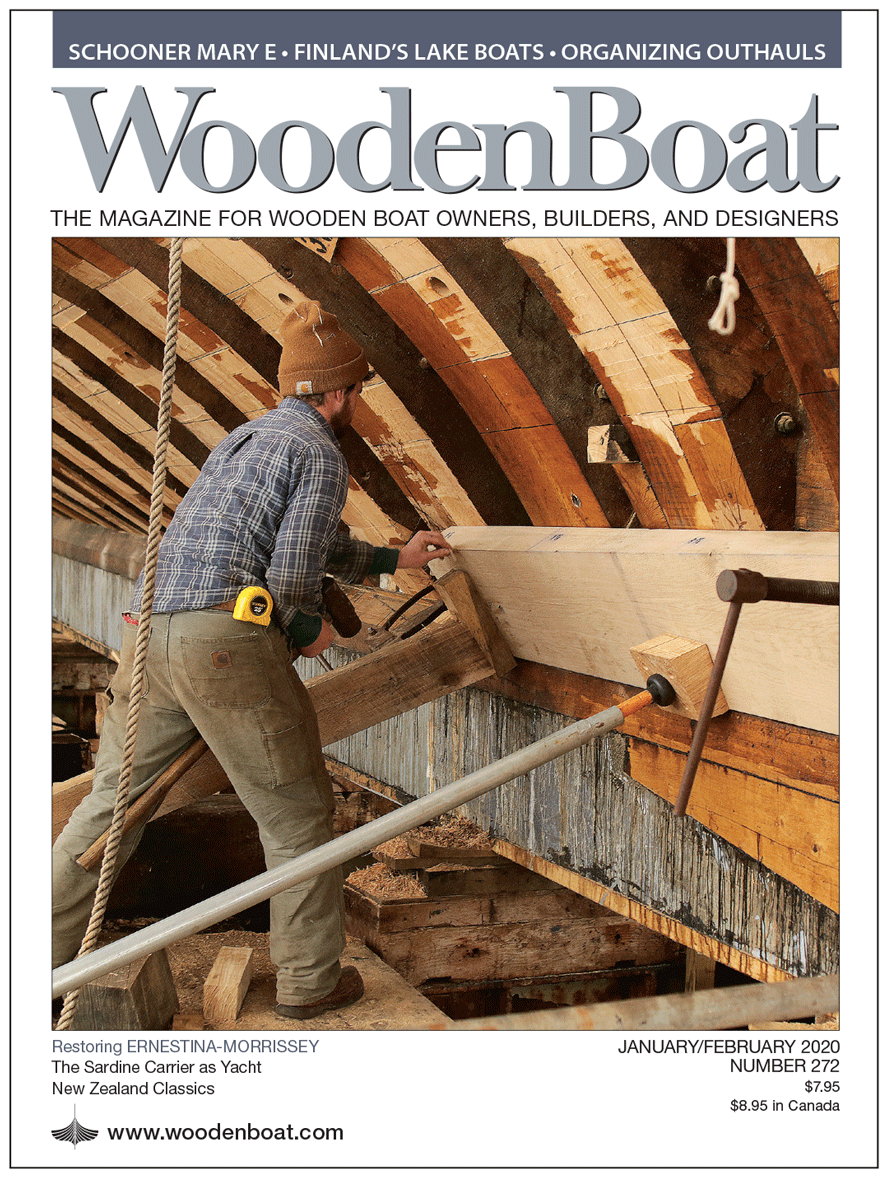 ISSUE NO. 272
January / February 2020
Editor's Page
Stout Schooner, Fleeting Opportunity
When I showed Eric Graves the cover image for this issue, asking him to identify the lone shipwright in the photo, he said, "That's David Thorpe. One man on a 5"-thick garboard. Everyone else must have passed out and fallen over." Eric is the vice president of Bristol Marine in Boothbay Harbor, Maine, the yard that painstakingly rebuilt the hull of the legendary schooner ERNESTINA-MORRISSEY; the yard is poised, at this writing, to complete her restoration. Eric's tongue-in-cheek addition to his response to my question was a nod to the sheer physical demands of the work of big-timber, sawn-frame construction.
To put this into perspective: the plank in the cover photo, whose butt end David is clamping, is about 30' long. It is of white oak and, by my rough calculation (and confirmed by Eric), it weighs more than 550 lbs. As David O'Reilly writes in his article on the ERNESTINA-MORRISSEY project beginning on page 56, when a limber plank emerged from the steambox and was carried to the boat, "all hands would then press the plank roughly into place, as close to the butt joint as possible, and then someone would prepare to pound the far end with a beetle, or wooden mallet, to drive the butt end tight." Four or five people would then be required to clamp the plank in place, in advance of fastening. David Thorpe, no doubt, has a crew of colleagues standing just out of view.
Such construction is a relative rarity these days. It involves heavy components that simply can't be lifted by a single person. Good planning and teamwork are imperative. That's why it's rather remarkable that there are no fewer than four sawn-frame vessels featured in this issue. In addition to ERNESTINA-MORRISSEY, they are: the recently relaunched sardine carrier WM. UNDERWOOD (page 78), the new Dutch eel barge KORNELISKE YKES II (page 22), and the rebuilt schooner MARY E (page 36). The latter three are smaller than ERNESTINA, but all require specialized skill and tools—especially in framing.
We did not choose these boats to deliberately create a theme issue on sawn frames. Rather, we chose them for the timeliness of their stories, and were delighted and surprised at the confluence of big timber that emerged as a result. Interesting things are happening in the world of wooden-vessel construction and, as David O'Reilly illustrates in his sidebar on page 66, young and passionate shipwrights are keeping that flame burning.
As David and I were discussing his article, we both acknowledged the challenge of including too many names in the text, and having this eclipse the narrative and details. But, then, how could we leave anyone out? We were lucky, when trying to balance these two imperatives, to be offered Bob Mitchell's superb photograph of the ERNESTINA-MORRISSEY building crew on page 66—and to have Eric fill in the names of the absentees.
The opportunity to record the building of a stout schooner's hull is fleeting. Crews scatter. Memories fade. Sea stories eclipse the construction. We feel honored and lucky to have captured this moment in ERNESTINA's incredible history (see, also, WB Nos 270 and 271), and to have presented a portrait of the people who extended her remarkable career. As Eric told me, "None of this happens without a dedicated team. They all deserve recognition."

Matt Murphy
Editor of WoodenBoat Magazine