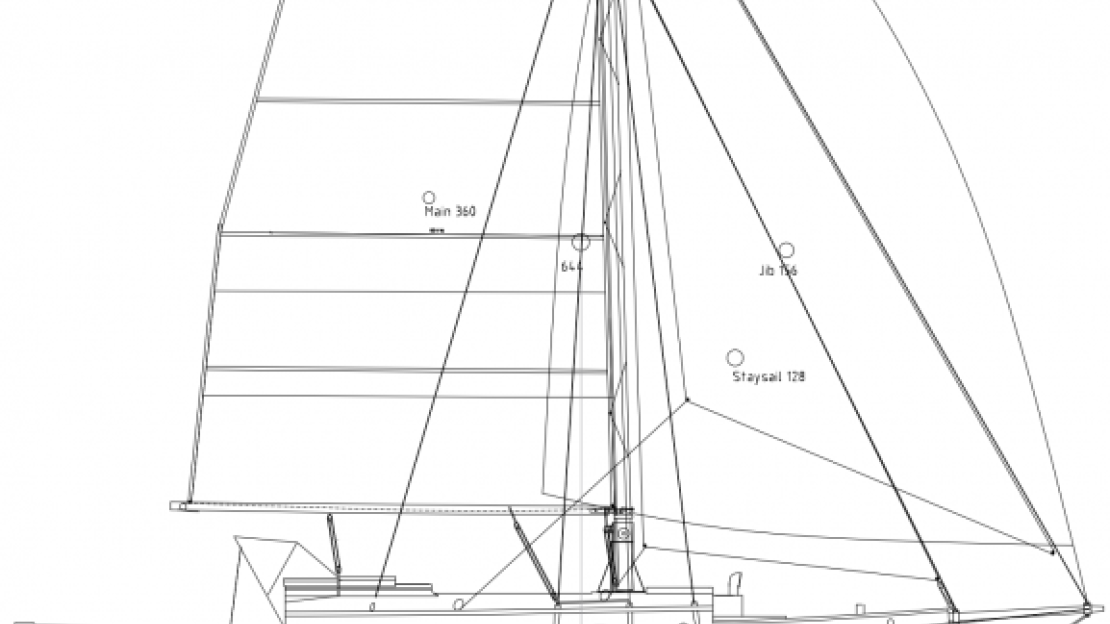 Sailboats - Cruising
Simplicity 35
Simplicity's defining features are her flat bottom, shoal draft hull and raised deck. The shoal hull form (draft is just over 2' with board up) enables access to many shallow anchorages and cruising grounds that are otherwise inaccessible, and Simplicity will be beachable with no need for legs or similar arrangements to keep her upright. The centerboard will provide respectable performance to windward, while off the wind, with the board up, Simplicity should prove significantly faster than many deep keel cruising boats of similar size.
The raised deck simplifies and strengthens construction while providing significant reserve buoyancy. Despite her shallow hull, Simplicity will be safe and capable offshore. Her substantial ballast (5500 lbs, with a 35% ballast/displacement ratio), in combination with the raised deck, provide excellent stability for a shoal draft boat: Simplicity is self-righting to over 125 degrees. Her displacement of 15,350 lbs is in cruising trim, and includes a long equipment list (with provision for three anchors and rode, two dinghies, tools and spares, and several months of provisions for a cruising couple).
Simplicity's raised deck and 11' beam result in a spacious interior, with standing headroom throughout. Various layout options can be fitted, but for many liveaboard cruisers the arrangement that is drawn should prove a good starting point. A double cabin is forward, with a hanging locker to port and shelving to starboard. In the main salon, the starboard settee can make into a double if desired; there is a bookshelf on the forward bulkhead, and room for a heater. The cabin table hinges off the centerboard trunk, which also extends aft under the galley counter. Lockers and shelves are located outboard above the settees. Amidships to port are the head and chart table, with a quarter berth (or storage) aft under the cockpit. To starboard is the spacious galley, with a gimbaled range, well insulated refrigerator, and functional counter with storage below. A wet locker is tucked under the companionway.
Construction has been kept simple but strong. The structure is largely plywood, including all hull panels, bulkheads and frames; the permanent bulkheads and frames serve as molds, in combination with interior joinery. The chine is constructed with epoxy coving and biaxial tape ("liquid joinery" style); as an option, a traditional chine could be fitted. Bulkheads and interior joinery can be secured with either wooden cleats or epoxy and tape. The raised deck is laminated plywood over a combination of fore and aft and athwartship beams. To further reduce building time, frames and bulkheads could be cut with a CNC router. As drawn, ballast consists of an external lead shoe 3" thick; the lead is costly but relatively simple to cast in this shape. It would also be possible to use steel and concrete for the keel, which would increase the draft, but also lower the ballast, and increase stability.
Design Specifications
Draft
2' -3/4" board up, 5' - 71/4" board down
Propulsion
Sail and inboard diesel
Available as
complete_plans