Past Issues of WoodenBoat Magazine
Current Issue of WoodenBoat Magazine
---
WoodenBoat 247, November/December 2015
Table of Contents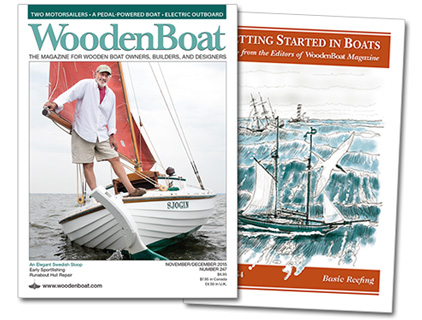 FEATURES
OCEAN PEARL — Spaulding Dunbar's masterpiece by Timothy K. Smith
RANGER — A pioneering sportfishing boat by Evelyn Ansel
SJOGIN — Mysterious origins, enduring legacy by Russ Manheimer
Runabout Restoration — New life for a varnished classic: Part 2 by Paul Brackley
ABI — A hybrid motorsailer by Christian Smith
Traditional Boats of Greece — Tenacious survivors of a fading legacy by Nic Compton
Laminating Frame Repairs — Using templates for three-dimensional patterning by Proctor Taylor
Denmark's Øhavets Smakkecenter — Preserving traditional boats and a vanishing way of life by Tríona Sørensen
Repairing Glued-Lapstrake Hulls — Scarfing planks in place needn't be intimidating by Walter Simmons
Getting Started in Boats: Basic Reefing: A guide to taking a tuck — Tear-out supplement by Jan Adkins
Cover: Russ Manheimer enjoys a relaxed moment aboard SJOGIN, his 22′ sloop of Swedish descent. Russ has owned SJOGIN for the past 30 years, and spends much of his time in her hove-to, as he is here, enjoying the scenery of upper Barnegat Bay, New Jersey. Photograph by Jay Fleming.
PURCHASE THIS ISSUE in PRINT or DIGITAL format
Looking for a particular article you saw?