Light on the Water — Images by Warren Sheppard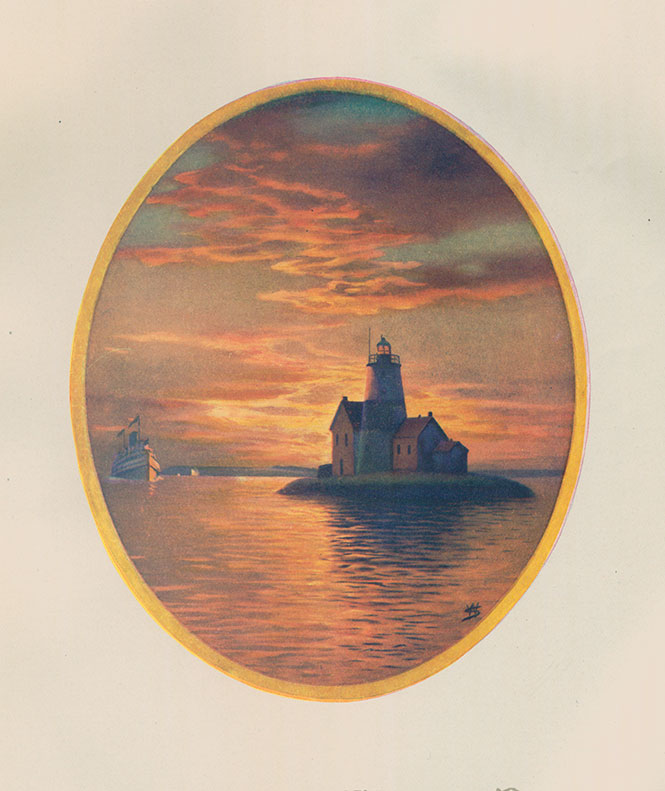 These images of Light on the Water appeared in The Rudder Magazine, February 1910, painted by Warren Sheppard. They show the artist's favorite yachting harbors and landmarks in fond detail, with cumulus storm clouds and eerie moonrises drawing a sailor's attention.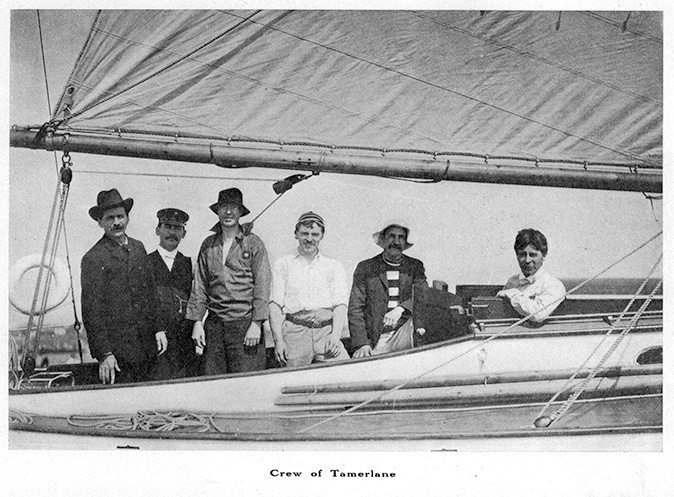 Although he was already a well-established marine artist, Sheppard served as illustrator and occasionally as an author for The Rudder during its finest years of publication. Mr. Sheppard was a close friend and colleague of the founder of The Rudder, Thomas Fleming Day. In this photo from The Rudder, 1906, Warren Sheppard (1858–1937) is the one on the right, in the companionway, aboard TAMERLANE. Tom Day, the mustachioed fellow with French sailor shirt, was the Sailing Master when TAMERLANE won the 1906 Bermuda Race, and Sheppard was the winning navigator. The man at the far left was the owner of the famous TAMERLANE, Frank Maier. (Identified by John Rousmaniere in A Berth to Bermuda, 2006, and in WoodenBoat No.190, May/June 2006, in his article "The Inevitability of Skipper Day.")
Sheppard learned perspective drawing at Cooper Union in New York City, and studied with the marine painter Maurice De Haas. His work is comparable to other more famous painters of the time, Fredrick Cozzens and A. Cary Smith. Sheppard exhibited his marine paintings at the Brooklyn Art Association, the National Academy of Design and the Pennsylvania Academy of Fine Arts, as well as the Denver Exposition of 1884 and the Louisiana Purchase Exposition of 1904. When he made these scenes for The Rudder, he was a well-established painter and illustrator, famous for his Venice canal scenes and moonlit seascapes, known for his intimate knowledge of the sea and of sailboat rigging details. Sheppard's work can be seen in the permanent collections of the Toledo Art Museum, the Peabody Essex Museum, the Museum of the City of New York, the Addison Gallery of American Art, and the Mariners' Museum.
We consider these images from The Rudder to be near-priceless artifacts in WoodenBoat Library's collection, and we scan them with reverence, as if they were the original oil paintings. If you can discern distortions in the image, wrinkles, undulations, or other marks of age in the 105-year-old paper of a popular magazine, ignore them: To eliminate these waves and shadows on the images, we would have to flatten it under glass, risking injury to the brittle bindings of the old issues.
The nearly complete collection of The Rudder back to 1894 can be found in the WoodenBoat Library. We offer a comfortable chair and year-round access to the collection to interested scholars. Many full-color plates by Warren Sheppard and other artists appear throughout the early issues.