Family BoatBuilding Links
Please contact us with any questions about participating in, or producing a Family BoatBuilding event.
WoodenBoat Magazine
P.O. Box 78
Brooklin, ME 04616
T: 207-359-4651
F: 207-359-8920
Email: jim@woodenboat.com
Participate in a Family BoatBuilding Event!
---
Get Your Family or Group On the Water! Build Your Own Boat in Two to Three Days—And Take it Home With You!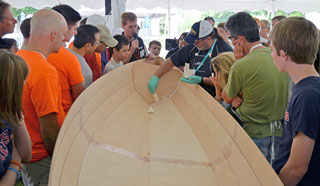 All you need to build a boat with your family or group is dedication—to the project and to each other. You need no carpentry skills; almost all of the event producers will provide kit boats or pre-cut parts that you can assemble in two to three days. Instructors will be present at the event to guide you through the entire construction process.
Families and groups all over the world have worked together to build their own boats! Events have taken place throughout the United States, Canada, Ireland, The Netherlands, and Australia.
Anyone Can Do It!
No carpentry skills are required to participate in Family BoatBuilding events, so anyone of any age or experience is welcome to join the events. An instructor will guide you through all phases of the building process and answer any questions you may have. We encourage people to participate even if they have no previous boating experience. Get your family on the water with our help!