MotorBoats 2013
from the editors of WoodenBoat
---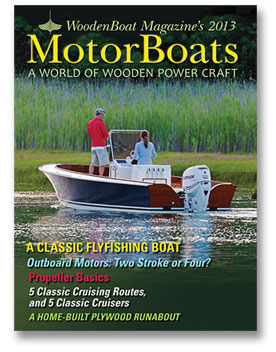 A Special Newsstand Issue from WoodenBoat magazine. Features TEN powerboats not previously published in WoodenBoat, plus much more.
Available at your local newsstand July 30, 2013 and also available now, directly from us.
Call The WoodenBoat Store Toll-Free 1.800.273.7447
Or order MotorBoats 2013 right now from our WoodenBoat Store website. We'll ship your issue right away. It's $6.95 + $3.00 shipping within the US.
TABLE Of CONTENTS:
Two-Stroke or Four? — How do you decide which is best for your boat? by Michael Vatalaro
Understanding Your Propeller — A guide to the basics by Dave Gerr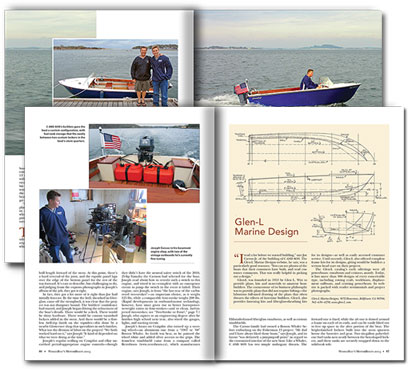 Above is Caruso Craft's 13' runabout C AND SON. Joseph, (the son) was 15 when they started the build and 17 years old when they finished.
Routes and Regions: Six Classic Powerboat Destinations
Canals of France
by Harvey Schwartz
Inside Passage
by Sam Devlin
Thousand Islands
by Emmett Smith
Murray River
by Bruce Stannard
Trent-Severn Waterway
by John Summers
Intracoastal Waterway
by John J. Kettlewell
HOLIDAY — Three generations of family cruising by Lawrence W. Cheek
Resurrecting NEVERDONE — Preserving precious originality while updating a classic cruiser by Will Stahlgren
MY WAY — An east-west fusion by Alan Haig-Brown
Flyfisher 22 — A classy center-console boat by Paul Lazarus
The Steam Launch AREZOO — A stunning tribute to Edwardian elegance and engineering by John Werlich
TRADE WIND — The rejuvenation of a classic Alden motorsailer by Brendan Riordan
MIRACLE — Ups, downs, tragedy—and at last, relaunching by Eric Sorensen
DELIVERANCE — A round-sterned power cruiser by D.N. Hylan & Associates by Maynard Bray
Building MISS SUE — A 25′ traditional Chesapeake Bay draketail by Grigg Mullen
CarusoCraft — A pair of first-time builders launch a fine runabout by Matthew P. Murphy
A Selection of MotorBoat Launchings by Robin Jettinghoff