Family BoatBuilding Links
Please contact us with any questions about participating in, or producing a Family BoatBuilding event.
WoodenBoat Magazine
P.O. Box 78
Brooklin, ME 04616
T: 207-359-4651
F: 207-359-8920
Email: jim@woodenboat.com
The History of Family BoatBuilding
---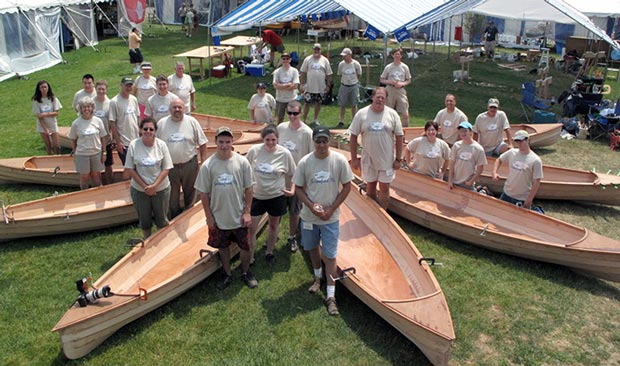 WoodenBoat magazine introduced Family BoatBuilding at the WoodenBoat Show in 1998 in St. Michaels, MD. That year 60 families built their own boats in two days and launched them on the third day to thunderous applause from hundreds of onlookers.
Beginning in 1998, WoodenBoat has worked in association with boatbuilder Joe Youcha and the Alexandria (VA) Seaport Foundation to perfect the concept of Family BoatBuilding. Joe has traveled around the country producing Family BoatBuilding events for diverse groups, and his experiences have helped us learn much about the skills participants learn and the benefits to family and group bonding Family Boatbuilding events provide.
In 2003, Family BoatBuilding Week was launched as an international weeklong event during which more than 30 organizations hosted boatbuilding families worldwide. The "hub" of Family BoatBuilding Week was at the WoodenBoat Show in Rockland, Maine, where Joe Youcha once again provided his expertise to regional families and groups.
Currently, we at WoodenBoat magazine, in association with the Alexandria (VA) Seaport Foundation, are continuing to help families and groups get on the water by helping more and more organizations produce Family BoatBuilding events worldwide.