The July 2015 Issue of

Small Boats Monthly

An on-line magazine crafted especially for those who store and maintain their boats at home.

The Mallard — A voyage from fantasy to reality
The SailZO — A new kit boat
American Venice — Chesapeake Bay's Smith Island
Reader Built Boat PILGRIM is a Redwing 18
Also featuring the making of rope fenders, an Emberlit stove, and a breathable dry suit

July/August 2015, Issue 245

WoodenBoat Magazine

YANKEE and LIVE YANKEE, Two Remarkable R-boats
Runabout Restoration on the Layaway plan
Metal Fabrication in the Woodshop
Restoring a 1936 Danish double-ender—and reconstructing her history
A Muskoka Lakes yacht from another era
Rigging and Tuning a Wooden Boat
C. Raymond Hunt and the development
of the deep-V hull
Welcome!
You are now logged in.

ADVERTISEMENT
ME
SEACLIPPER 10s FOR SALE -- Two SC10 sailing trimarans on piggy-back trailer. BANANAS was built...
WoodenBoat Magazine's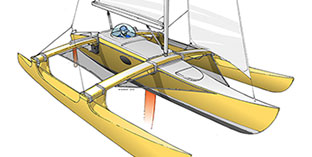 Extended content from issues of WoodenBoat magazine: Articles, Sketchbook, videos, and photographs, posted here relate to specific issues of WoodenBoat.
The Hacker-Craft Restoration Facility restores, repairs and remodels all brands of wood boats.
...
Photos & Videos
If you're in the market for a boat to build, this is a fine place to start. And if you are a designer offering plans or kit boats, we invite you to enter your information, there is no charge! This is for boats of ANY hull material.
Skill Level:
beginner
Start 55 expands the range of self-construction project of our Studio. This boat is simple to...
WoodenBoat Magazine's

August 9–20, 2015